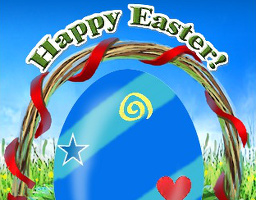 iCardU Easter Edition - the fun and easy way to create and send Easter cards!

Enjoy your creativity and surprise friends and family with self-designed Easter eggs and greeting cards.

All you need to give your Easter fancy full scope is your fingertip. Start with a blank white egg. Add colours, stickers and decor to customize your Easter egg. Put it on one of many beautiful card backgrounds and add a seasonal greeting. In a New York Minute, your one-of-a-kind Easter card is ready to be send with MMS.

You can also save your design to your photo album, send it via iTunes to your computer, print it, send it via email, use it in your signature and so much more.

The App is fun and the handling so easy. Spread the joy of Easter season to your nearest and dearest!


Features:
Create your Easter egg card using:
20 beautiful colours
70 seasonal stickers
20 fun accessories
25 card backdrops and
30 Easter greetings
Vist the Making of iCardU - Easter Edition Gallery